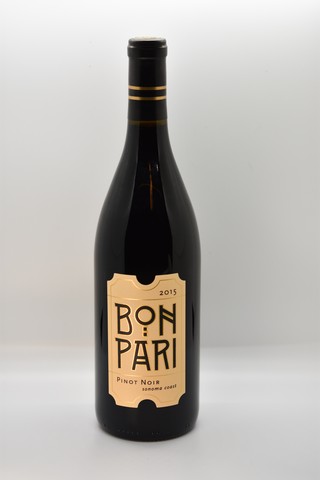 2015 Bon Pari Sonoma Coast Pinot Noir
For the 2015 vintage, we have added Pommard clone from the Platt Vineyard to our Dijon clone blend. Because of the reduced yield in 2015 and the increased complexity of the blend, this wine has remarkable a depth and structure.
Limited Quantities. Secure your order now.
Wine Profile
Tasting Notes
I have been a Bon Pari fan since being introduced to it in 2018 by Clayt Daley at our college reunion. Since then, I have thoroughly enjoyed both the Chardonnay and Pinot Noir vintages. I am notified as each year's wines come to market—Winners Circle and Bon Pari make me feel like I have my own private vineyard. I like to save my purchases for sharing with great friends and family. Bon Pari wines are my 'special occasion' wines of choice.
~ Rob, Virginia


---
Bon Pari wines are simply amazing! The Pinot Noirs are meticulously made and quite elegant. The Chardonnay has become my favorite dry white wine produced in California and in my view a rival to the finest white Burgundy wines. Naturally, I have become a loyal customer and I regularly recommend Bon Pari wines to my friends.
~ Bob, Ohio


---
Over the years, our family has developed a passion for food and wine. Our foray into this hobby started many years ago when our three children were young. Once a year in December, our two boys donned sports jackets and our daughter put on a "fancy dress" and we spent a glorious evening at the five star Maisonnette Restaurant in downtown Cincinnati. Despite the closure of this landmark restaurant, we have continued our love of food and wine with our now grown children. At various times throughout the year, we invite our children and their spouses for food and wine pairing dinners that we prepare. Since the release of their 2013 vintage, Bon Pari Pinot Noir is our all time family favorite lineup of wines. We have had numerous head to head tastings with these wines compared to wines that are sometimes twice the price and the Winner's Circle offerings have uniformly come out on top. These wines are also among the most versatile that we have tasted. We enjoy the pinot's with classical pairings such as salmon and duck but they have a robust style that makes them outstanding with steak. Truly these wines are the ones you want when you are stranded on a desert island. They are Burgundian in style but maintain a boldness that lets you know that they hail from California. We also have recently fallen in love with their superb Chardonnay which many times is the wine that we choose to pair with appetizers or an appropriate first course.

When you come to the Smith household for a meal, you should always expect wine to be served and there is an excellent chance that a Winner's Circle wine will be on the menu. As a member of the mailing list, I have the freedom to order these much sought after wines in the vintages that I want and when I want them. All orders are customized to fit our needs at the time. We would like to thank owner Clayt Daley for becoming such an important part of our family celebrations by allowing us to share in their fabulous wines.
~Graig & Jan, Ohio