Frequently Asked Questions:
---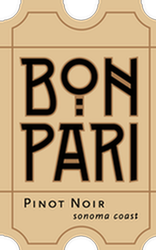 I should probably answer a couple of questions of that many folks may ask:
First, what does the future hold for Bon Pari?
We will have the same number of cases in 2014 as in 2013. Production will increase slightly in 2015 and 2016. Our estate vineyard will begin to produce in 2017. It will produce about 5 tons of Chardonnay and about 10 tons of Pinot Noir ... this would produce about 700-800 cases. I will take some of this fruit and begin to produce estate Pinot Noir and Chardonnay under the Bon Pari brand name. I will likely sell some of the fruit to a "big-name" producer, who has already committed to take all of the tonnage from the vineyard that I don't use.
Second, why is the wine priced at $75 per bottle?
I had a number of wine professionals and aficionados taste the wine against similarly or higher priced wines from Mary Edwards, DuMOL, Goldeneye and other producers. Based on the head-to-head tastings, we believe that $75 represents a good value for what you're going to receive versus alternatives in the marketplace.
Third, where could I buy other wines similar to yours?
My winemaker, Fred Scherrer, makes a full line of premium wines including Chardonnay, Pinot Noir, Zinfandel and Cabernet Sauvignon. Fred's wines are very well-made and very reasonably priced. You can see his offerings on www.scherrerwinery.com. And, if you've seen the October 2016 edition of the Wine Advocate, you will see some outstanding reviews of Fred's wines from Robert Parker.
Fourth, are you going to make any money on your wine?
Not a chance! The cost of producing the wine, the overhead costs, trademark registration, legal fees and all of the costs of regulation and legal compliance are overwhelming for a winery making only 100 cases or so ... but you have to start somewhere.