Frequently Asked Questions:
---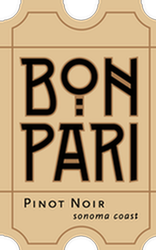 I should probably answer a couple of questions of that many folks may ask:
First, what does the future hold for Bon Pari?
We produce just over 100 cases of Sonoma Coast Pinot Noir in 2013 and 2014. Our total production increased to 150 cases in 2015 because of the introduction of our Russian River wine ... the production of the Sonoma Coast wine was actually down about 25%, due to the short crop.
In 2016, we will have about the same number of cases of the Sonoma Coast wine, but our production of the Russian River will increased to over 100 cases. These wines were just bottled and will be released next Fall.
In 2017, Winner's Circle Vineyards produced it's first crop of Chardonnay and Pinot Noir. We will produce about 100 cases of 2017 Winner's Circle Vineyard Estate Chardonnay. We will decide next year whether to bottle the Estate Pinot Noir separately or combine it with our Russian River blend.
The fruit from Winner's Circle Vineyards that I am not buying is being sold on an exclusive basis to Kosta Browne. They recognize the potential of the vineyard very early!
Second, why did we raise the price of the Sonoma Coast wine for 2015?
The Pommard clone fruit cost us $10,000 a ton. Because of the incredibly low yield (under 1 ton/acre)in the vineyard, the increased price was required to recover the high cost of this fruit. The product is well worth it ... it should be priced higher.
Third, where could I buy other wines similar to yours?
My winemaker, Fred Scherrer, makes a full line of premium wines including Chardonnay, Pinot Noir, Zinfandel and Cabernet Sauvignon. Fred's wines are very well-made and very reasonably priced. You can see his offerings on www.scherrerwinery.com. And, if you've seen the October 2016 edition of the Wine Advocate, you will see some outstanding reviews of Fred's wines from Robert Parker.
Fourth, are you going to make any money on your wine?
Not a chance! The cost of producing the wine, the overhead costs, trademark registration, legal fees and all of the costs of regulation and legal compliance are overwhelming for a winery making only 100 cases or so ... but you have to start somewhere.